B.J. has been an associate member of the club from 1976-1986 and recently reinstated his associate membership in 2007. His club car is a 1932 Ford Roadster.
B.J. is a single, retired Dentist. He has one son Darin, his wife Susan and five grandchildren. They have recently relocated to Boston, Mass. where Darin will be starting a College Ice Hockey Ministry with Athletes in Action. He will be working with college hockey players, the parents and the coaches. On campus, he'll be working with several colleges including: Harvard, Yale and Boston University. Three of Darin's sons have been playing ice hockey in Russia for several years. (Pictured above is B.J. and his grand kids and Darin and his family.)

His hobbies include the internet, digital photography, and restoring old cars. He's a progressive jazz buff and loves World War II history. He loves traveling across the pond.
What it means to be a member of the
L. A. Roadsters: It means that I am a member of the best street rod club in the world. With members who are also the best in the world. I am very grateful that I was able to reinstate my membership in the club in 2007.
June 2011, I was on my annual drive from Salem, Oregon to Los Angeles, California. I wanted to stop and take this picture for several years. This time I did. Mount Shasta had a full covering of snow, which made the picture just the way I wanted it.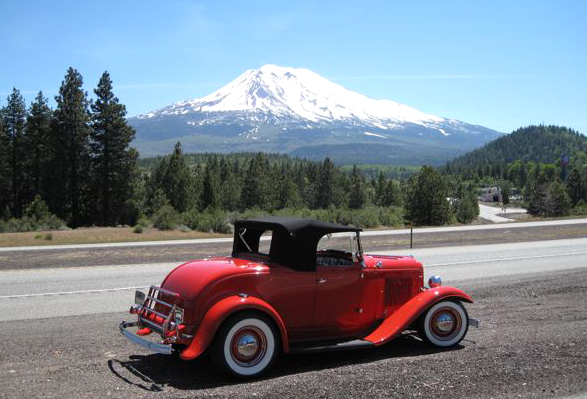 Updated 10-8-18