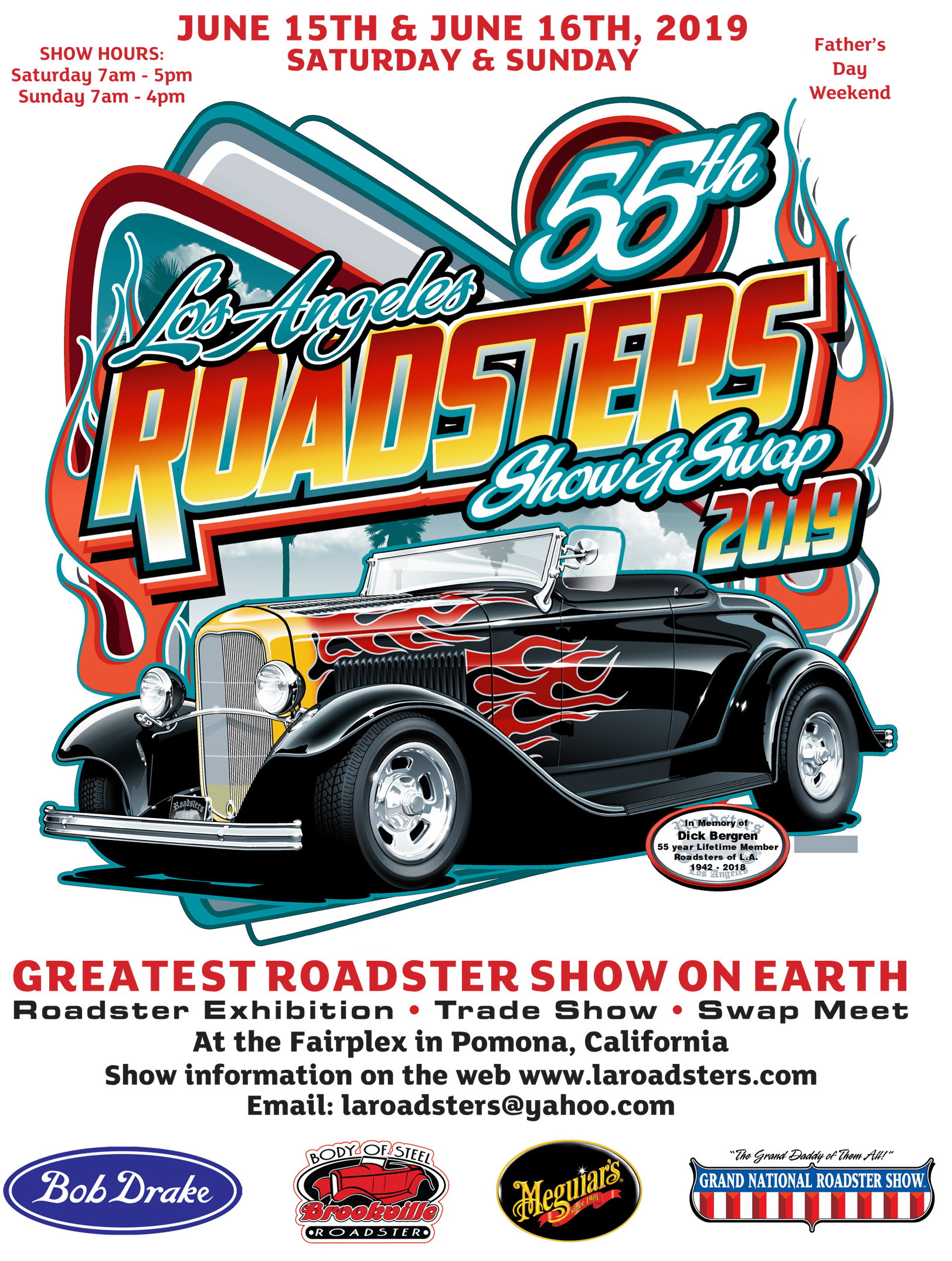 2019 Show News

The L.A. Roadsters Car Club is again managing the 2019 Roadster Show and Swap.
The 2019 show will be held on Father's Day Weekend on Saturday, June 15th and Sunday, June 16th at the Fairplex in Pomona, California.
Year 2019 will be the 55th time the L.A. Roadsters have produced its world-renowned show and the 39th year it will be held at the Fairplex in Pomona.
This year's Show Chairman is Jim Gacchina and Assistant Show Chairman is Frank Williams.

There will be some big changes in this year's show.
Roadsters
The main attraction will be the hundreds of 1936 and older open cars of all types and makes; some original, some modified, but all of the highest quality and completely finished with glossy paint painstakingly restored to the owners preference. No flat paint roadsters allowed in Roadster Parking Area. No cruising fairgrounds for liability reasons.
There will be no entrance charge for roadster and driver. Passengers will be charged $20 each for the weekend.
Roadsters enter through Gate #17.
Commercial Exhibitors
Click here for Commercial Exhibitors
Swappers
Swap Sellers move-in is Friday at 10:00 am. Enter at Gate #15 off Arrow Highway.
Swap meet open Saturday and Sunday 6:00 am.
Swap spaces are $80 for Saturday and Sunday. Sunday only spaces are $35. Swap spaces are sold on a first come first serve basis. Each swap space is 25' by 15'. No refunds.

Pre-registration is available. Contact Ken Butler at (805) 390-5187 or kbutlerconcrete@gmail.com.
Items for sale should be car parts and/or car related items only.
Swap Meet Buyers
Swap meet open Saturday and Sunday 6:00 am.
Parking is available at Gate #15 off at Arrow Highway.
For large item pick-up, show your paid parking stub and you can enter Gate #15 or #17 for parts pick-up only.
Specialty Parking
Specialty parking now 1980 and older autos and pickups. Classics, Hot Rods, and other Special Interest cars will be entered in this large area forming a huge car show. This is also a perfect area to enter cars for sale because it has become a known fact that this is a great place to buy or sell a cool car.
Admission is $10 per car, $20 per person/per day. Children under 12 are free.
Enter at Gate #15 off Arrow Highway.
Spectator Parking
Parking will be available at Gate #15 or Gate #17. Show hours for Saturday will be 7:00 am to 5:00 pm. Sunday 7:00 am to 4:00 pm. Admission is $20 per person/per day, children under 12 are free.
Tram service will be available during show hours.